Christmas Trees
Nothing shouts tradition more than a family trip to a locally owned Christmas tree farm. In the Finger Lakes region, you'll find a several lots that offer visitors the chance to cut down their tree or pick one out from a pre-cut selection. Our farms make for the perfect addition to an old or new tradition!
We encourage you to please call ahead before travelling to any farm, orchard, or farmers market to check opening times and availability. When visiting, please follow current guidelines for health and safety to ensure a safe experience for our guests and our farmers. Thank you for supporting our local farms.
Bean Station Tree Farm
Large family owned tree farm offering Christmas trees, (u-cut and precut), wreaths, swags, and Christmas shop. Always call ahead before travelling to any farm or orchard to check opening times and availability.
Bucky's Tree Farm
Since 1931 families have been visiting Bucky's Tree Farm to pick out the perfect Christmas tree. They have almost 40 acres of trees to choose from. They also offer fresh handmade wreaths and cemetary arrangements. A Twin Tiers staple for […]
More Info
Buttonwood Tree Farm
Buttonwood Tree Farm specializes in Canaan Fir and Concolor Christmas Trees. Choose and cut your own tree from their four fields of trees that range from 2′ to 15′.
Cabins in the Clouds Christmas Forest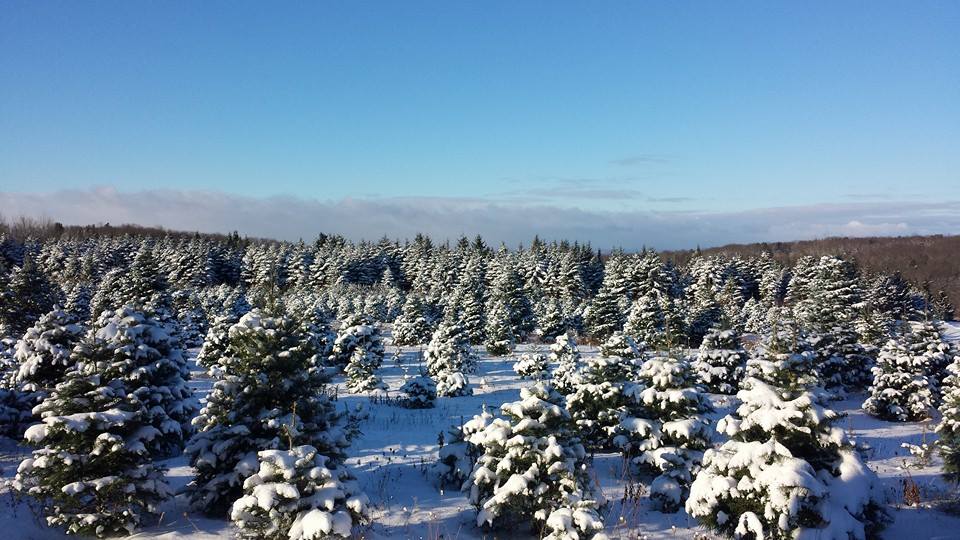 The farm, formerly known as McDonalds Tree Farm, is located at 1,936 feet above sea level… the crisp hilltop air providing a perfect setting for the growth of their Christmas trees, accompanied by breathtaking views merging into magnificent skies. The […]
More Info
Empire Evergreens
Empire Evergreens is one of New York's finest conifer plantations, specializing in premium Christmas trees and nursery evergreens. 136 acre evergreen tree farm located just outside Corning, NY. Growing evergreens for both the retail and wholesale nursery and Christmas tree […]
More Info
Hober Tree Farm
An Upstate New York U-cut Christmas tree farm specializing in Douglas, Balsam, Concolor, Frazier and Grande Fir along with all the holiday trimmings. A family owned and operated tree farm in Wayland, NY. Open from dusk till dawn 7 days […]
More Info
Marcus Farms
Marcus Farms is a wholesale and retail nursery and Christmas tree farm.
Nitsche Tree Farm
A family owned an operated Christmas tree farm selling Douglas Fir, Balsam Fir, Concolor Fir, Fraser Fir, White And Blue Spruce, Live Potted Trees And Wreaths. Pre Cut Trees Also Available.
Pine Valley Farms
Pine Valley Farms offers bedding plants, hanging baskets, perennials, vegetable plants, house plants, fall mums and asters, and more.
Spruce Run Tree Farm
Large variety of cut your own chritmas trees. Visit their christmas shop for everything you need to set up your tree. Decorated wreaths available.
Terry Brown's Christmas Tree Farm
Variety of u-cut and pre-cut Christmas trees.
Towner Tree Farms
Towner Tree Farms is a family owned Christmas Tree Farm offering pick-your-own trees and pre-cut trees that include Fraser Fir, Canaan Fir, Douglas Fir, Grand Fir, Concolor Fir & Blue Spruce. Decorated and plain wreaths are also available.
Yule Tree Farms
Yule Tree Farms offer a large variety of Pines, Spruces and Fir ranging from 3 to 30′. They specialize in the digging of balled and burlap evergreens.