Nature's Sweetness
Experience nature's sweetness in Finger Lakes Farm Country. Surrounded by an abundance of natural resources, local producers are able to create the purest and tastiest maple and honey products to share with the community.
Hamley's Maple Farm
Call to visit or buy Maple Syrup. Look for the Open House Pancake Breakfasts in the Spring and in the Fall!
Hilltop Maple Farm
Hill Top Maple Farm is a family run maple farm. Visit for their farm tours and their yearly open house.  Always call ahead before travelling to any farm to check opening times and availability.
Leo's Honey House
Opening in 1980, Leo's Honey House is a third generation bee farm producing high quality raw, ultra raw and comb honey. As a byproduct of their honey production, the sweet-smelling bees wax is made into a wide variety of taper, […]
More Info
Mount Saviour Monastery
The Monastery of Mount Saviour is a community of monks striving to live a simple, genuine and full monastic life. Stay on the farm property in one of the cottages or the farmhouse apartment. Visit the gift shop for honey […]
More Info
Oak and Osage Farm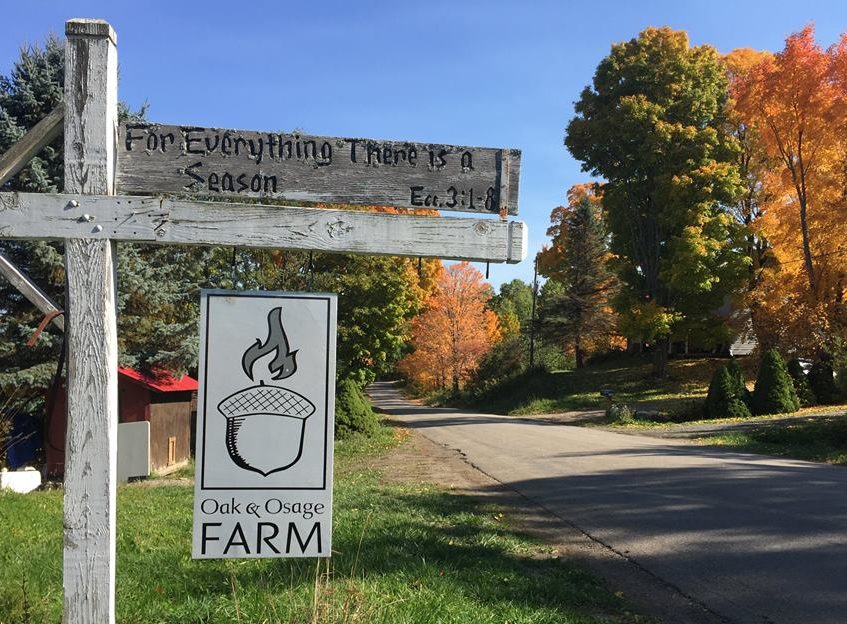 Currently in their fifth growing season, Oak & Osage Farm grows a variety of vegetables without synthetic pesticides, herbicides, and fertilizers. Apples are available in the Fall and they make maple syrup in the Spring.
Petteys Farm
Petteys Farm Maple offers maple syrup, maple cream, maple candy, and maple sugar. The Sugar Shack is open to visitors.
Ruff Acres Farm
Farm offering pasture beef, Shiitake Mushrooms, eggs, chicken, pork, maple syrup, honey, and seasonal vegetables.
Schweigart's Sugar Shack
Schweigart's Sugar Shack offers maple syrup, maple candy, and maple cream. They also make an assortment of maple BBQ sauces, peanut butter, and Italian marinade.
Stewarts Family Farm
Stewarts Family Farm offers seasonal vegetables, fresh fruits, maple syrup and other maple products, goat cheese and milk, and more. Visit the Farm Creamery & Store for fresh baked goods and ice cream.
Sugar-Haven Farms
Sugar-Haven Farms offers a variety of meat products that are hormone, antibiotic, and drug free. Their cattle are 100% grassfed, while their pastured pigs and chickens are Non-GMO. Fresh vegetable, eggs, and maple syrup are also available.
Sweetrees Maple Products
Sweetrees Maple offers Maple Syrup and a variety of Maple products. Visitors can tour the Sugar Shack and take a walk into the Sugar Bush. Open for tours when boiling and for NYS Maple Weekend.
Wellspring Forest Farm
Forest farm products including mushrooms, duck eggs, pastured lamb, and maple syrup. Wellspring Forest Farm offers classes to build the skills to become active stewards of woodland resources. Stay on their working farm in a yurt, available to book now.
Wixson Honey, Inc.
Carries a complete line of Honey containers and Bee keeping supplies. Along with your favorite Local Honey (Clover, Buckwheat and Fall Flower), and have Cream Honey (Plain, Cinnamon and Apricot). Honey Comb is also available, and boy is it yummy. […]