Find the Perfect Christmas Tree in Finger Lakes Farm Country
A beloved family tradition for many is traveling to the local Christmas tree farm and searching through the fields for the perfect tree to be the centerpiece of your home during the holiday season. Finger Lakes Farm Country is home to a dozen family owned Christmas tree farms that offer visitors a chance to pick from pre-cut trees or venture out on their own and cut one themselves. There is nothing better than the scent of a freshly cut Christmas tree during the Holidays. Don't forget to stop in one of the many gift shops for wreaths and other holiday necessities!
Bean Station Tree Farm is one of the many farms that you can visit this season to look for your ideal Christmas tree. Look through their selection of pre-cut trees ready to go or search through for your perfect tree to cut yourself. They even provide the saws to make it easier. Your hunt to get the perfect tree gets even more festive with tractor rides, and a stop into their gift shop where you'll find handcrafted wreaths and unique Christmas themed items.
The idyllic Cabin in the Clouds Christmas Forest has a wide variety of Christmas tree varieties over 20 acres of land to explore to find your tree. From Douglas Fir, Fraser Fir, Canaan Fir, Blue Spruce, and more you're bound to find the one perfect for you. Don't forget to stop into their gift shop and browse through the decorated and undecorated wreaths, sweet treats, holiday decorations and gifts.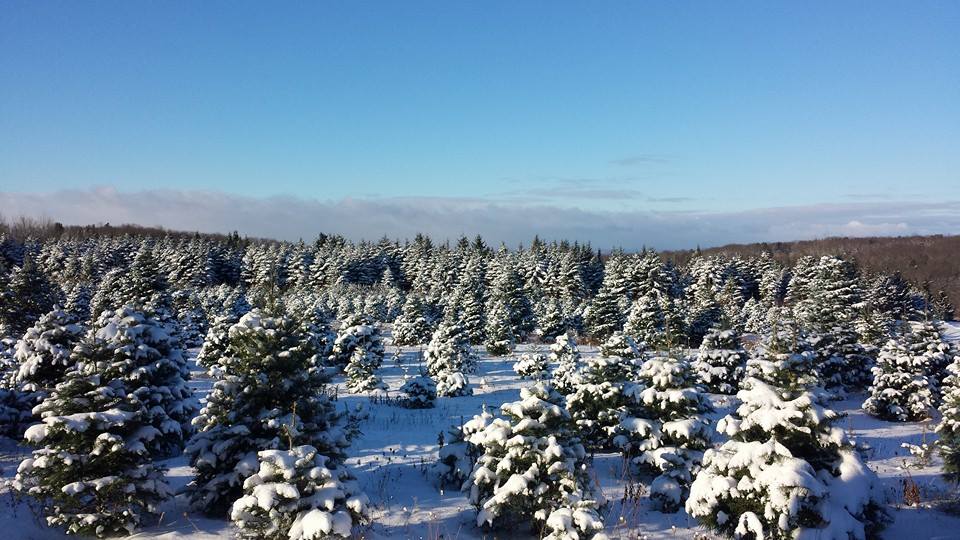 Browse through the fields and the seven different varieties of Christmas trees that Empire Evergreens offers. If you don't find one perfect for you while out exploring, check out their selection of freshly cut pre-cut trees. The wreaths crafted at Empire Evergreens are made and fashioned from the greens from their trees grown on the farm.
Christmas Tree Tips
After picking which farm in Finger Lakes Farm Country you are going to visit here are a few things to know before you go and what you should expect when you arrive.
Check their schedule and hours before you go. Many farms are only open on the weekends or have limited hours. They may also have special events. Check their website or call ahead before you make the trip.
The season of snow and cold is upon us. Dress for the weather and be aware that you may be walking out in the fields so proper attire is important. Bring hot cocoa to help stay warm and festive!
Here are a few simple steps in helping you pick out your perfect tree:
Do a quick search of varieties of Christmas Trees. They all have different characteristics, looks, and styles. Most farms will list the varieties they have available on their websites.
Measure the space where you are planning on displaying your tree before you leave home and bring a tape measure to the farm with you.
Look for a fresh tree – the needles will be shiny and green, not dry and brown. They should not fall off when you pull on the branch.
Check for sturdy branches to hold ornaments and lights. Take an unbreakable ornament with you and test it on a few trees to be sure.
Before you can adorn your tree with colorful lights and decorations you have to get it home. How to safely transport your tree:
Many Christmas tree farms offer shaking, baling and drilling for a small fee or even for free. Make sure to ask.
If possible, lay the tree in the back of your vehicle or make sure that it is securely tied down to the top of your vehicle. Consider wrapping it in a tarp or blanket.
The scenery of the trees is a picture-perfect setting for photos and capturing the memories of your adventure. Don't forget to bring your camera with you!
Take part in the tradition and venture out in search of your perfect Christmas Tree. Explore the Christmas Tree farms in Finger Lakes Farm Country and find the one that is just right for you and your family.
We encourage you to call or visit our farms and attractions individual websites before visiting for any updates and current availability. You can also visit our Safe Visit page for tips on how to make the most of your visit while protecting yourself and others.
Source: thespruce.com